For new homeschoolers trying to find their way, or experienced homeschoolers looking for a new approach, the multitude of curriculums and philosophies can be overwhelming. From unschooling to classical, there is a teaching style for everyone. Two similar but distinct approaches to home education are Charlotte Mason and Waldorf. So, what are these methods, and what distinguishes them?
Both Charlotte Mason and Waldorf are concerned with a student's whole person and all areas of life. However, their methods differ. Charlotte Mason focuses primarily on reading quality literature and spending time in nature, while Waldorf places more emphasis on artwork and physical activity.
Ready to learn more about the differences and similarities between Waldorf and Charlotte Mason? Let's dig into it.
Similarities Between Charlotte Mason and Waldorf
Both Charlotte Mason and Waldorf emphasize the use of good literature that promotes moral development, and both identify time spent outdoors as a key element of a complete education. They also suggest avoiding formal academic work in early childhood.
Both of these styles of schooling were created in reaction to a schooling system that overused textbooks and tests. Charlotte Mason and Rudolf Steiner (the founder of Waldorf) saw the education system of their day as stuffing children's heads with facts while giving them no sense of the meaning or significance of what they were learning.
As a result, there are many shared elements between these two approaches to education.
Key Differences Between Waldorf and Charlotte Mason
Despite similarities, Charlotte Mason and Waldorf are not identical. Charlotte Mason's curriculum emphasizes the synthesis of learning and making connections between different subjects. In Waldorf homeschooling, there is a preference for an in-depth study of a single topic for an extended period.
As such, a Charlotte Mason student typically has many different subjects to study in a single day.
A Waldorf middle schooler might spend six weeks learning about ancient Rome. (source)
While exercise and artistic work are included in Charlotte Mason's schooling, they are not promoted as strongly as in the Waldorf approach. The most prominent feature of Charlotte Mason's education is the emphasis on reading. Students are supposed to read real, "living" books, early and often.
However, Waldorf students are supposed to learn to write before they start reading. This is part of the education's philosophy of "head, heart, and hands"—balancing academic work with spiritual development (often through the arts) and physical activity.
Waldorf education also emphasizes rhythm and routine, each day following a specific pattern. Some parents will love this aspect of the schooling style, and others will struggle. Charlotte Mason is more flexible and less prescriptive about the daily schedule.
What's the difference between classical education and Charlotte Mason?
The Charlotte Mason approach is far from opposed to classical education, and the two can easily be combined. Classical schooling often tends more toward a structured, formal approach that differs from the naturalistic methods of Charlotte Mason.
There is no single, agreed-upon definition of classical education. Classical education often follows what is known as "the trivium." These three distinct stages of schooling are intended to follow the progression of students' developing thinking skills.
If used well together, the strict discipline of classical education can help avoid any slacking off that Charlotte Mason's schooling might invite. Meanwhile, a grounding in Charlotte Mason's principles can prevent classical techniques from sucking the joy and soul out of learning. (source)
What's the difference between classical education and Waldorf?
Trivium-based education is different from Waldorf education. A classical curriculum involves students learning world history chronologically over four years with other subjects aligned, then starting over. In Waldorf-style homeschooling, students do six-week intensive units on diverse topics.
In classical education, the other topics students study, such as science, are intended to align with their history study and developmental stage.
With Waldorf, the order of these topics is not meant to follow the course of history but is based on what is deemed most relevant to students at a particular age. (source)
However, despite their differences, classical education is not necessarily incompatible with the Waldorf approach. An educator could certainly choose elements of each to combine into a custom schooling style.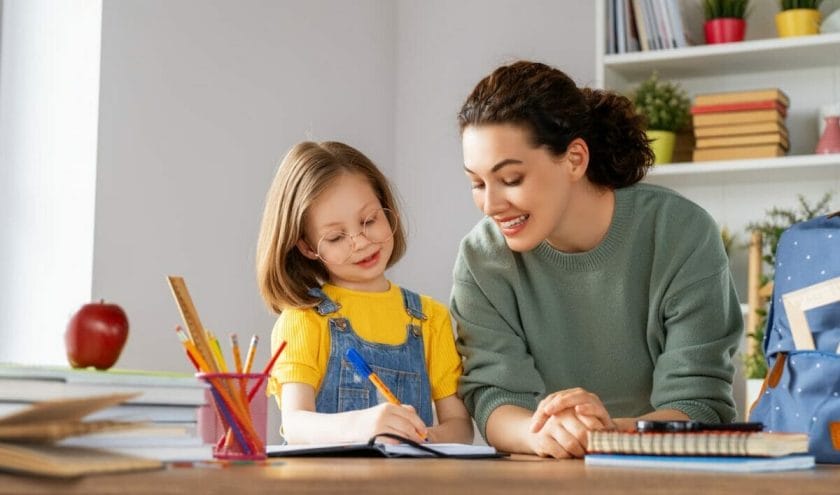 Which Method to Pick: Waldorf vs. Charlotte Mason
Charlotte Mason and Waldorf homeschooling share many of the same values and methods. Charlotte Mason takes the approach of education as just one part of life, while Waldorf is a much more holistic system, where all of life becomes a part of education.
The real difference between them is the way they apply their methods. Let's discuss when to pick either method.
When to pick Charlotte Mason
Educators looking for an education style more concerned with a student's soul than empty scholastic achievement may find what they are looking for in the Charlotte Mason approach. Charlotte Mason provides a naturalistic education that is fairly easy to adopt and not overwhelming for newcomers.
If this sounds like what you want, then definitely pick the Charlotte Mason curriculum.
When to pick Waldorf
Waldorf education is great for homeschoolers looking for strong guidelines, detailed sequences of in-depth unit studies, and carefully structured daily routines. This is especially truer if a holistic approach is desired.
For some educators, Charlotte Mason schooling may feel a bit incomplete or disorganized. If this is true for you, then Waldorf may feel like a more organized and complete option for your family.
Which Is Better, Charlotte Mason or Waldorf?
Every style of education has its benefits and its drawbacks. Few are inherently better or worse than others. Because Charlotte Mason and Waldorf are so similar in spirit, the best choice depends on what a homeschool family is looking for.
While Charlotte Mason is a philosophy of education, Waldorf is more of a lifestyle. Charlotte Mason suggests reading "living books" instead of textbooks. Waldorf outlines activities for a family's daily "Morning Circle." (source)
Some parents are thrilled by the holistic approach of Waldorf and embrace it, reassured that they are doing what is best for their child. Others may find Waldorf overwhelming or excessive and prefer the greater flexibility Charlotte Mason offers.
Ultimately, the best choice (Charlotte Mason, Waldorf, neither, or a combination) is something you must determine for yourself and your homeschooling family.
Is Either Method Religious?
Generally speaking, schooling methods are not inherently religious. A religious or secular family can easily adopt either Charlotte Mason or Waldorf methods. However, the two approaches have differing attitudes toward spirituality in education.
Is Charlotte Mason homeschool religious?
While Charlotte Mason was a Christian, she never intended her schooling methods to be used to proselytize. She viewed all knowledge as coming from God. A family looking to approach homeschooling from a secular perspective can easily adopt Mason's principles without sharing her religious beliefs.
Since both religious and secular homeschoolers embrace the Charlotte Mason approach, diverse curriculum options are available. Parents should do careful research when choosing a curriculum to ensure it aligns with the beliefs they want to teach their children.
Is Waldorf-style homeschooling religious?
Spirituality is an inherent part of the Waldorf educational philosophy. Waldorf intends to instruct "head, heart, and hands" in equal measure, with "heart" representing a child's spiritual or moral development. Waldorf schooling does not require a family to subscribe to any specific creed.
For secular homeschoolers, the "heart" education could involve training in morality. (source)
As with Charlotte Mason, there are various forms of Waldorf-inspired curriculum available. Some are overtly Christian and others take a secular approach, so parents can take their pick. Of course, an alternative option is to piece together a custom curriculum. The "resources" section below includes religious and secular curricula for both Charlotte Mason and Waldorf.
What Resources Each Method Provides
Many resources are available for families using either of these methods. These resources include books, blogs, online support groups, curricula, and more.
All of these links open in new windows, and we have no affiliation with them.
Charlotte Mason Resources:
Waldorf Resources:
Does Charlotte Mason have open and go curriculum?
Charlotte Mason has various curriculum levels, including "open and go" options. Here are some of the curriculum options, with purely secular options noted with an asterisk (*).
All of these links open in new windows, and we have no affiliation with them.
Does Waldorf have open and go curriculum?
Waldorf has various curriculum levels, including "open and go" options. Here are some of the curriculum options, with purely secular options noted with an asterisk (*).
All of these links open in new windows, and we have no affiliation with them.
Can You Combine Charlotte Mason or Waldorf With Other Methods?
As mentioned above, Charlotte Mason and Waldorf are compatible with classical homeschooling. In addition, it's not always necessary to choose between them—these two methods, with all their similarities, can combine.
When it comes to homeschooling, the only real limit is the educator's imagination and ingenuity. No rule requires sticking strictly to a single approach. Choosing the best elements from several different schooling methods may ultimately be the best route to a well-rounded education.
Resources
Marjorie. (2020). What Charlotte Mason homeschoolers ought to learn from Waldorf. Juniper Pines. Retrieved July 21, 2022, from https://www.juniperpines.com/charlotte-mason-waldorf/
Marjorie. (2018). Is Charlotte Mason only for Christians? Juniper Pines. Retrieved July 21, 2022, from https://www.juniperpines.com/charlotte-mason-christians/
Miller, J. (2021, November 29). Comparing homeschooling methods: Charlotte Mason, Montessori, and Waldorf. iHomeschool Network. Retrieved July 21, 2022, from https://ihomeschoolnetwork.com/comparing-homeschooling-methods/.
Duffy, C. (2017, July 10). Consider this: Charlotte Mason and the classical tradition. Cathy Duffy Homeschool Curriculum Reviews. Retrieved July 21, 2022, from https://cathyduffyreviews.com/homeschool-extras/approaches-to-education/charlotte-mason/consider-this-charlotte-mason-and-the-classical-tradition.
Miller, D. (2005, October 1). Introduction to Waldorf homeschooling. TheHomeSchoolMom. Retrieved July 21, 2022, from https://www.thehomeschoolmom.com/introduction-to-waldorf-homeschooling/
Murdoch, M. (2021, September 30). The Steiner Waldorf approach to education. TheHomeSchoolMom. Retrieved July 21, 2022, from https://www.thehomeschoolmom.com/the-steiner-waldorf-approach-to-education/
Andrysczyk, K. (2020, September 23). What is Waldorf homeschooling? Homeschool.com. Retrieved July 21, 2022, from https://www.homeschool.com/blog/2019/04/what-is-waldorf-homeschooling/
Ciravola, H. (2021, November 2). The Charlotte Mason Homeschool Guide. The Curriculum Choice. Retrieved July 21, 2022, from https://www.thecurriculumchoice.com/charlotte-mason-homeschool/