Homeschooling our children is challenging – even more so when we teach them from individual curriculums according to their age. We'll find ourselves playing the role of several teachers, which can be stressful, and it's easy to get disorganized.
Homeschooling in a large family style is when parents work from a single curriculum to teach children of all ages together. They can teach most subjects family style, separate from reading and math, which they must teach according to age and development.
There are many benefits to teaching all our children from the same curriculum. It eases the pressure for us as parents and teachers, and we'll bond as a family when we learn together.
Do you want to know more about teaching your children from a single curriculum? Take a look at this comprehensive guide to homeschooling a large family.
What is Family Style Homeschooling?
Family-style homeschooling allows parents to teach their children together as one group, regardless of their age. This means they spend less time creating lesson plans and more time interacting with the kids.
One way to make the homeschooling journey more pleasurable for our children is by adopting a large family-style or one-room schoolhouse approach to teaching.
Family-style homeschooling might seem daunting initially, but establishing a good routine will enhance our family's learning experience. Teaching everyone together is rewarding because we can celebrate reaching learning goals together as a family.
Parents can use a family-style curriculum with children of all ages for subjects such as geography, history, and art – but it doesn't work for reading, writing, and arithmetic.
The parents must teach these subjects according to age and development, but it's easy to accommodate this into single-curriculum schooling.
Can you do a one-room schoolhouse-style curriculum with a large family?
A one-room schoolhouse-style curriculum is ideal for large families because it allows the family to work closely together as a team. Instead of studying as separate units, our children can help each other learn, which also takes the pressure off us as teachers.
Learning together as a family from one curriculum schoolhouse style has many benefits, which we'll look at below.
It's easier to organize – Instead of working from several curricula, parents only work from one, which is much easier to organize. Using a single curriculum is less confusing and stressful, and we can spend more time teaching our kids rather than trying to create several different lesson plans.
Bond as a family – Working together in one room will help us bond with our kids, deepen relationships, and help us work better as a team. Learning will become a shared adventure that we can all enjoy together.
Older children can learn about responsibility – Learning together as a family is a fantastic way to teach older children about responsibility because they can mentor their younger siblings.
The older kids helping their siblings can also boost their IQ by reinforcing what they've learned when they teach younger children.
It's more fun – Homeschool learning is more fun when parents and their children work as a team instead of each child working on their own agenda.
Children learn more – When we teach our children in a large family style, they will learn more because they can explore subjects in depth.
How to Build a Schedule for Homeschooling a Large Family
To create a homeschool schedule for a large family, parents must base it on the number of children and the hours they plan to teach per day. They must allocate time for individual learning for subjects such as math and writing and include lots of break times.
The beauty of homeschooling is that we can create a learning schedule perfectly tailored to suit our household routines. We can even incorporate daily household chores into our plans, which is an excellent way to get the kids moving around.
When we create a one-room schedule, we must also allow time for individual sessions in writing and math because we must teach these individually, depending on their age.
Parents can teach most subjects like geography, history, and art as a group. Give everyone a few weeks to settle into the routine so they know what's expected of them.
There are many types of scheduling for homeschooling large family-style, and we'll look at them below.
Block – A block routine is one of the most popular homeschooling schedules. It's similar to term time in conventional schools. We choose two or three subjects to study over a few weeks or months with a block schedule. We can move to the next block of subjects when we've covered every topic.
Loop – With a loop routine, parents work from a list instead of having daily study goals. They take one subject, work on it for a set period, and then move on to the next. This is one of the most flexible schedules because it flows and doesn't neglect any subjects.
Checklist – Checklist schedules are pretty straightforward – we write down a list of goals for the day, either as a class or for individuals. Let the children choose the tasks they want to do and check them off when they're complete.
Term – Term scheduling is when we pick one subject and explore it deeply over a few weeks. When we finish the subject, we can move on to the next one. Term scheduling lets us explore topics in-depth and is particularly good for unit studies with homeschooling.
Calendar – A calendar schedule is when we plan for the entire year ahead. Parents can include the whole year's holiday times, test days, terms, assignments, and projects.
Best Learning Styles for Large Families that Homeschool
Many of the best learning styles for a large family are humanistic ones, such as Montessori and Charlotte Manson. Humanistic teaching helps children learn from real-life situations to become independent, critical thinkers. For large-family homeschooling, avoid age-based learning styles.
Let's look at some popular learning styles for large families that homeschool.
Charlotte Mason
Charlotte Manson is a homeschooling pioneer from the 19th century, and her learning style is based on reading and interacting with nature. It's student-led and involves small bouts of study, 15 – 20 mins for young children and 45 minutes for high schoolers.
Students participate in interactive activities between study sessions, like nature walks, observations, memorizing, and narration.
The Charlotte Mason method involves lots of reading, including biographies, classics, and "living books" that teach lessons about morality and society. It's incredibly flexible, allows children to learn at their own pace, and uses journaling and portfolios rather than formal tests.
Parents can combine Charlotte Mason learning with other learning styles, such as unit study and classical.
Want to know more about Charlotte Mason vs. Waldorf: What's the Difference? Read our article at that link.
Montessori
Maria Montessori was an Italian physician and teacher in the 20th century, and she developed this learning style from working with special needs children. It's ideal for large-family homeschooling because it's based on teamwork and collaboration.
The Montessori method promotes interactive, physical, self-learning through art and creativity, where children learn through interacting with their environment.
The Montessori learning style is student-led and works with children's personal interests. Ideally, if we want to use the Montessori technique, we need a certificate to understand the method.
Confused about how Montessori differs from unschooling? Read our guide: Unschooling vs. Montessori: 8 Main Differences Explained.
Unit studies
Unit studies are one of the most popular styles for homeschooling a large family. This is when we take one subject, such as world war two, and overlap it with other related subjects.
We can learn the history of the war, about aviation and flying, then maybe flying insects and bring it all together with a project at the end of the unit.
Unit studies allow us to take many approaches to the same subject and provide endless learning opportunities. It's fun, student-led, and encourages children to take an interest in their weaker subjects.
It's also a fantastic way to teach children how to develop different perspectives on things and gives them lots of freedom to explore topics.
Unschooling/natural learning
John Holt was a schoolteacher who didn't like the rigidity of conventional school, so he came up with the idea of Unschooling.
Unschooling is the opposite of everything kids do in school – children learn organically from real-life situations. This could be counting money, working out a monthly finance plan, using a compass, and reading maps.
With Unschooling, parents are a facilitator rather than a teacher – they teach children whatever they want to know about and help them discover and explore their passions.
Unschooling is the most freeform, unstructured learning style, which is entirely student-centered – children follow their curiosity and learn as they live. The benefit of Unschooling is that each child can develop according to their talents and strengths.
Eclectic
Eclectic learning is a mixture of one or more learning styles, and we can tweak them to suit our groups or individuals. Eclectic learning is popular for homeschooling because it's relaxed and flexible.
An example of Eclectic learning is that we can do Unit Studies one day and Charlotte Mason the next.
For Eclectic learning, we must have a good understanding of the different teaching styles because if we don't, working with so many resources can be overwhelming. Eclectic learning is a fantastic option if we feel trapped by a single curriculum or if we can't choose between two learning styles.
Other Tips for Homeschooling a Large Family
When parents homeschool a large family, they must be flexible with their schedule and have a plan B in place for when things don't go well. We should encourage children to actively learn rather than depend on us for all the answers and ensure everyone benefits from the teaching style.
To help us and our children get the most from large-family schooling – I've listed some crucial tips below.
Tip #1 – Have a schedule but be flexible
A homeschooling schedule or routine is vital regardless of the teaching style – even Unschooling needs some basic structure. The routine doesn't have to be rigid like in conventional school – it should flex and flow to suit the home environment.
With homeschooling, it's better to go by routine rather than the clock – this way, parents and their children won't feel so pressured. We must find a balance between flexibility and structure because if we're too flexible – we won't get much teaching done.
Tip #2 – Don't overload your schedule
Keep the schedule simple and don't overload it – this will only lead to confusion and stress if we don't get everything done. Be realistic with the learning goals and leave ample time to explore topics deeply. Make detailed weekly, daily or monthly checklists to help keep on top of things.
Tip #3 – Encourage active learning
Active learning is when a child actively seeks out information to answer their questions, rather than us dictating to them. So, encourage a child's natural curiosity and show them how they can find answers themselves through research.
When children learn independently, it takes some pressure off us as teachers. It's also excellent for the child's learning because the information tends to sink in more when they discover things themselves.
Tip #4 – Always have a backup plan
We must plan for every eventuality when we teach at home because many things might disrupt the school day. Expect to deal with illness, emergencies, or technical faults like losing an internet connection, and always have a plan B in place for the children.
If we're called away for whatever reason, we can get the kids to watch educational documentaries, practice reading aloud, or participate in a scavenger hunt. Bookmarking a set of approved educational websites the children can use when we have to take our attention elsewhere is a good idea.
Tip #5 – Encourage older children to take responsibility
One of the main benefits of teaching a large family style is that it's a fantastic way to teach older children about mentoring and responsibility. When older children teach their siblings, it teaches them how to be responsible role models and can even boost their IQ.
Older children can support us in the home classroom when they help with the little ones.
Tip #6 – Allocate individual time to each child
When we teach a large family, we must allocate individual periods to each child for one-on-one help and support. Use the sessions to ensure they are learning and developing or to teach subjects such as math and writing.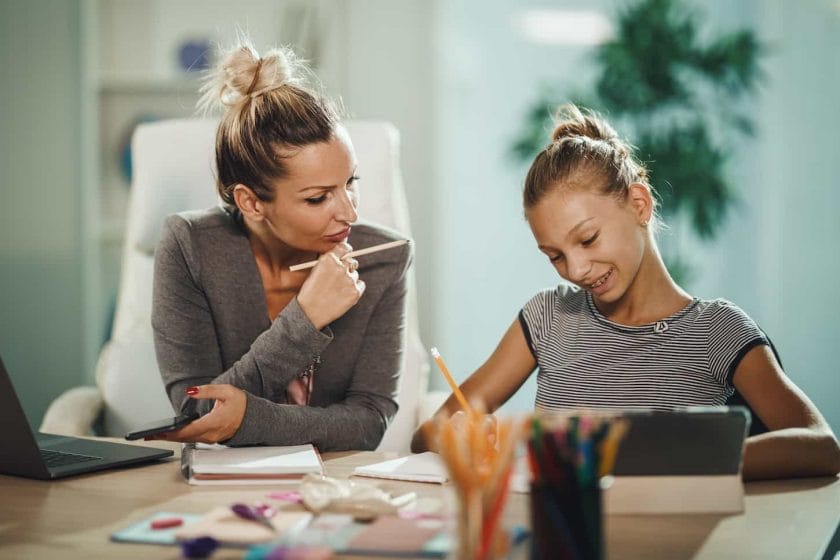 Best Curriculums for Homeschooling a Large Family
When parents teach in a large-family style, they must choose a curriculum that supports family-style homeschooling. The best curriculums for large-family homeschooling should encourage active learning and provide learning materials for children of all ages.
To help parents find the perfect curriculum for their family, I've listed three large-family-style homeschooling-friendly ones below:
Curriculum #1 – Schoolhouse teachers
Schoolhouse Teachers offers over 400 courses in all subjects and is ideal for large family homeschooling because it covers all grades. It has a low-cost monthly, biannual, or annual subscription and encourages self-learning through videos, text, and e-books.
We can use Schoolhouse Teachers as a complete curriculum or for single subjects, and it includes training materials and support for parents to help with planning, record keeping, and organization. The package also comes with outstanding customer service and support.
Curriculum #2 – All about learning press
The 'All About Learning Press' covers literature, reading, and writing for all age ranges and even has a pre-reading program for the little ones. It's a multi-sensory program with interactive activities, and it's particularly good for children who struggle with reading and writing.
With the 'All About Learning Press,' we can teach children reading or writing in 20 minutes a day – so it's ideal for large-family curriculums. It has placement tests – so we can establish our child's reading level, and it comes with a one-year money-back guarantee and lifetime support.
Curriculum #4 – Charlotte Mason Institute from Alvery
The Charlotte Mason Institute provides a comprehensive curriculum, including math, history, art, languages, and science. It's suitable for all ages, and we can teach all our children with one subscription.
The fantastic thing about this curriculum is it offers extensive parental resources such as webinars, member tutorials, and access to an enormous online community for support.
We will gain an in-depth understanding of the Charlotte Mason learning methods and have access to lesson plans. This is a holistic curriculum where we will learn and develop alongside our children.
Key Takeaways and Next Steps
We must pick a suitable learning style and curriculum if we want to homeschool a large family. The style and curriculum must be compatible with large-family-style schooling and include a comprehensive range of subjects for all ages.
Make sure to create a learning schedule and give children plenty of allocated individual time to teach them subjects such as writing and math, which aren't compatible with large-family-style schooling.
To encourage teamwork, buddy older children with younger ones to become learning mentors. This will ease the pressure on parents as teachers and help our children learn more.
If you are a parent who wants more information about homeschooling, including costs and different methods, these articles are for you.
They're all great resources, so give them a read!
Resources
Learning from your own experience is important, but learning from others is also smart. These are the sources used in this article and our research to be more informed as homeschoolers.
"10 Strategies for Large Family Homeschooling Success." Homeschooling 4 Him, 26 Feb. 2022, homeschooling4him.com/large-family-homeschooling.
Boeckman, Joanie. "Large Family Homeschool Curriculum Choices 2018-2019." Simple Living Mama, 7 Jan. 2019, simplelivingmama.com/large-family-homeschool-curriculum-choices-2018-2019.
"Charlotte Mason Vs. Waldorf: What's the Difference?" Homeschool All-Stars, 23 July 2022, homeschoolallstars.com/charlotte-mason-vs-waldorf-whats-the-difference.
"Choosing Homeschool Curriculum for the Large Family." My Joy-Filled Life, 2 July 2016, www.myjoyfilledlife.com/choosing-homeschool-curriculum-large-family.
Charlotte Mason Institute, 14 Jan. 2022, www.charlottemasoninstitute.org.
Homeschool Reading and Spelling Curriculum, Programs | Home School Language Arts Materials. www.allaboutlearningpress.com. Accessed 7 Oct. 2022.
"Loop Scheduling Vs. Block Scheduling: Which Is Right for Your Homeschool?" Your Morning Basket, 11 Aug. 2021, pambarnhill.com/loop-scheduling.
Noodle. www.noodle.com/articles/one-room-schoolhouse-education-for-homeschooling. Accessed 7 Oct. 2022.
Sara @ Happiness is here. "A Day in the Life of an Unschooling Family." Happiness Is Here, 3 Apr. 2021, happinessishereblog.com/a-day-in-the-life-of-an-unschooling-family.
"SchoolhouseTeachers.com – Online Homeschool Courses for Everybody." SchoolhouseTeachers.com, 23 Sept. 2022, schoolhouseteachers.com.
"Unschooling Vs. Montessori: 8 Main Differences Explained." Homeschool All-Stars, 19 Sept. 2022, homeschoolallstars.com/unschooling-vs-montessori-8-main-differences-explained.