While some families plan to homeschool even before their children are born, many only decide they want to try homeschooling after their children are already enrolled in public school. Once parents determine that homeschooling might be a better fit for their student, how do they make the switch?
There are two steps to this process: withdrawing from public school and beginning homeschooling. Each state has unique requirements for completing these two steps. It is important to find out the details of these requirements before beginning the process.
So, how does making the switch from public school to homeschooling work?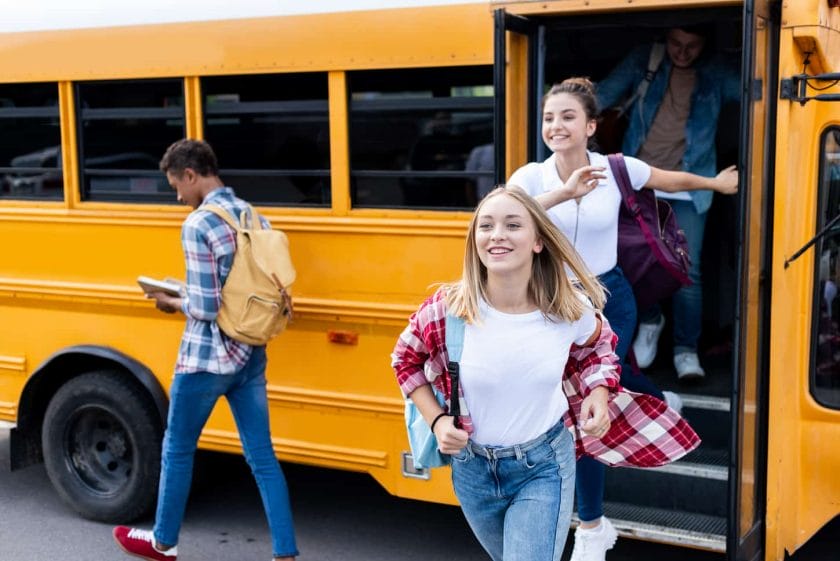 How Do You Disenroll a Student from Public School for Homeschooling?
Ten states permit families to remove their children from public school and begin homeschooling without notifying their school district. All other states require a declaration of intent in some format before unenrollment is complete.
Even in a "no notice" state, contacting the school and explaining the decision to homeschool may be best so no problems arise with reported truancy.
States that do require notification have different timelines and specifications for the disenrollment (or unenrollment) process. Some require a one-time declaration of intent, while others ask for a yearly update.
When in doubt, the resources listed below can help clarify questions about state laws and how the withdrawal process differs from state to state.
How Do I Switch to Homeschooling in My State?
Laws about homeschooling and withdrawing a child from public school differ considerably from state to state. Some states allow homeschoolers almost complete autonomy, others have rigid specifications, and some are in the middle.
For example, Idaho's only requirements for homeschoolers are the designation of an instructor and the inclusion of certain subjects in the curriculum. Washington has a few more, including filing an "Intent to Homeschool" form each year and standardized testing.
Pennsylvania's laws are much stricter, requiring the logging of hours and filing of affidavits.
Figuring out the exact process for making the switch can feel overwhelming, but fortunately, plenty of help is available. Here are resources for learning more about homeschooling laws in your state:
Before withdrawing a child from school and starting to homeschool, it's a good idea to visit the state board of education website to find out about requirements. In addition, contacting the local school district is usually helpful.
Talking with other homeschool families in the area can be a great way to get practical advice and a clearer sense of the process.
What Are the Requirements for Homeschooling?
Generally speaking, state requirements involve what is taught, how, and by whom. This can include requiring a homeschool instructor to have a high school degree, specifying what subjects need to be covered, and mandating yearly standardized testing.
Some states allow homeschoolers to operate independently. Others require a connection with an outside organization. Some require specific qualifications for an instructor; others say any parent is legally allowed to homeschool a child.
Some require the submission of academic records and regular assessments, and others permit families to withhold this information.
These are just a few of the many variants involved in state laws about homeschooling. The regulations usually aim to ensure children receive an adequate education equivalent to or better than what they would get from a public school.
The websites linked above provide detailed breakdowns of the policies in each state.
Always read the homeschool requirements listed by your state on the state's website. That way, you'll know you're 100% compliant and good to go.
What Are Valid Reasons to Pull Children Out of Public School for Homeschool?
Removing a child from public school is justified whenever it becomes clear that homeschooling will better promote the child's well-being. This may be for academic, social, emotional, or multidimensional reasons.
List of Common Reasons to Withdraw a Child:
Schoolwork not challenging enough for a gifted child
Insufficient help for a child with learning differences
Negative social environment
Concern for health and safety
Unethical actions of teachers and administrators
Separation from family
The competitive, high-pressure environment
School values don't align with family beliefs
Children not making friends or enjoying school
Exhaustion due to a packed schedule filled with busywork
Environment overwhelming for children with emotional difficulties
This list is not exhaustive by any means. The reasons why homeschooling may prove to be a better fit for any given child are as unique as the individual children in question.
Families' reasons for withdrawing children have also shifted due to the pandemic, recent changes in public school policies, increasing school violence, and growing mental health concerns.
While some states may have strict regulations about withdrawing a child from school, parents are never required to justify their decision.
As long as they follow the requirements dictated by the state and school district, they do not owe anyone an explanation for why they have decided homeschooling is best for their child.
Families are free to pick whatever form of education they prefer—homeschooling, public school, private school, etc.—as long as they pursue it according to the state-mandated procedures.
Can I withdraw my child from school because of bullying?
Suppose a parent is aware of bullying and has not had sufficient success getting the school to intervene and/or address the issue. In that case, transferring and/or withdrawing the child is a responsible action.
Bullying is a serious and pervasive issue in many schools. It can severely damage a child's mental health and may have deadly consequences if allowed too far.
Many forms of bullying are subtle and escape the notice of teachers and administrators. This doesn't make them any less harmful, though. Bullying may still occur even if a school claims it has handled the situation.
Parents should take any bullying report very seriously and be willing to do whatever it takes to keep their children safe. This may sometimes involve withdrawing the child from school.
In some cases, transferring to a new school can be another option. The "right call" will ultimately depend on all personal concerns, issues, and other factors.
How Fast Can You Switch to Homeschooling?
In some states, it is possible for a family to make the switch as soon as they decide they want to. However, others have formal procedures for removing a child from public school and beginning to homeschool.
There are other considerations in addition to legal requirements. In some cases, if a school environment is severely negatively impacting a child, it may be best to withdraw as quickly as possible.
However, in other situations, it may be best for a child's social, emotional, and academic well-being to finish the semester or year at their current school before switching. This also gives parents time to plan the curriculum and make other decisions about how they will homeschool.
Thankfully, there is no one-size-fits-all answer. It's always up to the parents, the student, the family, and any trusted adults to counsel together when making this decision.
Key Takeaways and Next Steps
Parents who decide public school is not best for their children need to go through the process of withdrawing from public school and starting to homeschool. Their state laws will determine exactly what this process looks like.
Many emotions can be involved in switching schooling methods—frustration, anxiety, stress, and even grief. However, having a clear understanding of the state's expectations for homeschoolers can help reduce stress and make the transition go as smoothly as possible.
Once a family has figured out how to disenroll from public school and legally make the switch, it is time for their homeschool adventure to begin!
We have some other informative articles available to help parents on their homeschooling journey:
They're all great reads, so be sure to check out any (or all!) that appeal to you on your homeschooling journey.
Resources
Learning from your own experience is important, but learning from others is also smart. These are the sources used in this article and our research to be more informed as homeschoolers.
Ellis, K. (2020). Homeschool laws by state. Finder.com. https://www.finder.com/homeschool-laws-by-state.
Homeschool.com. (2022). State homeschooling laws. Homeschool.com. https://www.homeschool.com/articles/state-homeschooling-laws/.
HSLDA. (2022). Homeschool laws by state. Homeschool Legal Defense Association. https://hslda.org/legal/.
World Population Review. (2022). Homeschool laws by state. World Population Review. https://worldpopulationreview.com/state-rankings/homeschool-laws-by-state.